With layoffs, company reorgs and employee disengagement, organizations are looking for big improvements to the employee experience in order to retain employees who are engaged and productive. Improving employee connectivity, development and opportunities for growth are top of mind for many HR leaders. Gartner found "leader and manager development" and organizational culture are the topic priorities for 2024.

Mentoring's ability to build connection while driving skill growth and knowledge transfer are why companies like Amazon use it to develop new managers, Paychex uses it to grow gender parity in leadership and Coca-Cola uses it to better integrate employees to the organization and its people. Mentoring allows people to learn from one another, providing a path to personal and professional growth.
In the workplace, for instance, someone established in their career can share knowledge and insights, as well as offer guidance, to someone with less experience. In academic institutions, students can explore education and career possibilities with a mentor, while a recent graduate can get insight into how to chart a career path and connections for future employment.
What is a mentorship program?
---
A formal mentoring program is a structured, often one-to-one relationship in a work, organization or academic setting. Mentoring allows people to learn from one another, providing a path to skill and knowledge transfer. Impactful mentoring programs train mentors and mentees to have productive conversations and meetings, providing them with career development tools and resources to accomplish set mentorship goals.
Starting a mentoring program requires:
Identifying the purpose of mentoring and the vision for the program in your organization
Understanding your mentor and mentee candidates
Consistent communication and promotion to encourage mentoring longevity
When done right, a mentoring program in a professional setting is an enjoyable, rewarding experience for organizations and their people.
What is the purpose of mentoring programs?
The purpose of mentoring is to facilitate the personal and professional growth of individuals by providing guidance, support, and knowledge transfer from experienced mentors to mentees. Especially in the workplace, mentoring offers the opportunity for human connection for the purpose of learning, building new skills and creating empathetic relationships between colleagues. Through the act of providing guidance and supporting development, people can reach their full potential, which can unlock productivity, creativity and impactful returns for the business.
Formal mentoring programs offer a structured, systematic and strategic approach to mentoring. They help drive personal and professional development, support organizational goals, and foster an inclusive culture of growth and learning within the workplace.
What is a Mentor?
There's a wide range of things a mentor can offer a mentee. Mentors can listen, share advice, ask thought-provoking questions, and more, including:
Provides a sounding board
Mentors can listen to their mentees' concerns and brainstorm ideas and suggestions about their future career. Mentors can also share feedback and response that might help crystalize a person's path forward in a particular situation or in regards to a career trajectory.
Gives advice
Mentors directly offer recommendations. They can suggest professional development priorities, help mentees establish goals, and identify resources. Mentors can also be helpful in the interview or promotion process, offering feedback on resumes and cover letters, as well as tips for acing an interview.
Shares inspiration and encouragement
Peeling back the steps someone took in their career can be illuminating. Mentors share knowledge on both a small scale (the nitty-gritty of workplace successes) and the large scale (how to build a successful, fulfilling career). Mentors can also offer encouragement, acting as a cheerleader for a mentee's goals and dreams.
Offers networking opportunities
A mentor can make introductions to people who can be helpful in a mentee's career, share opportunities, and recommend events and stretch assignments that will expose a mentee to important information and connections.

What is a Mentee?
The mentor-mentee relationship is a two-way street. Mentees can provide feedback and new perspectives to mentors, while helping them work on their leadership skills and growth. As with mentors, a mentee's role will vary, but some core actions on the part of a mentee include the following.
Take and gives constructive feedback
Hearing about what you're doing well is a lovely experience, but getting notes on what needs improvement or should be adjusted can be harder to take. Still, mentees should respond to feedback—both positive and negative—with openness, since this is ultimately useful information intended to help with growth and future success. Similarly, they should be prepared to give their mentors the same candid feedback. This assures that both parties are learning from each other.
Engages mindfully
By being on time, prepared for meetings, and professional, mentees can show they value the time and efforts mentors are providing.
Steers the relationship
Mentees should be clear on what they hope to get out of interactions, and drive conversations and interactions. Establish the meeting times and meeting modes, and come with questions, specific requests for advice and proposed topics of conversation.
Follows through
After getting suggestions, recommendations, introductions, and so on, mentees should follow up with the appropriate actions, and be prepared to give updates at subsequent meetings. This helps validate the work and effort on the part of the mentor, and continues the good rapport within the mentoring relationship.
What are the Benefits of a Mentorship Program?
A well-planned, thoughtful mentoring program will encourage people to connect with others on a personal level. This helps build strong, trusting relationships that motivate and guide toward future goals. The benefits of mentoring extend to mentors, mentees and their organizations and include:
helping students prepare to graduate and enter the workforce
improving employee engagement and retention
increasing diversity, equity and inclusion (DEI) in the workplace
enabling members of a professional association further their professional development
help professionals network with others in their industry
When done right, a mentoring program in a professional setting is an enjoyable, rewarding experience for organizations and their people.
Benefits of Being a Mentor
Being a mentor offers a wide range of benefits, both personally and professionally. Here are some of the key advantages:
Develop and refine skills: Mentors will learn to be organized, share information clearly, and guide someone else to grow personally and professionally. Mentors also build their acumen in leadership and management.
Give back: Lending a hand can feel gratifying and meaningful. Plus, it's a big compliment to be someone's source of wisdom.
See what's next: The knowledge-sharing in this relationship goes in both directions. Not only do mentors get access to the concerns and priorities of younger workers, but they might get a hands-on look at new technology or ways of operating.
Mentoring can be deeply rewarding on a personal level. Many mentors find satisfaction in helping others grow, achieve their goals, and overcome challenges. The act of giving back and making a positive impact on someone's life can be immensely fulfilling.
Learn how to be a better mentor in this article.
Benefits of Being a Mentee
Being a mentee offers a wealth of benefits, including access to knowledge, experience, and support that can significantly enhance your employee journey and personal life in the following ways:
Gain support and knowledge: impactful mentoring provides mentees with advice, wisdom, and encouragement, as well as new skills and institutional knowledge.
Become more productive employees: Feedback and guidance from mentors can improve workplace performance.
Being a mentee is an opportunity for growth and development that can lead to a more successful and fulfilling future.
Learn how to be a good mentee in this article.
Benefits of Mentoring for Organizations
By setting up checkpoints and structure, a formal mentorship program allows mentors and mentees to have a relationship that's productive and beneficial to all involved. The structure and accountability provided in formal programs—such as defined goals, mentor/mentee training, and an established platform of communication—elevate the connection beyond the confines of informal mentoring. Plus, with a formal program in place, more mentorship relationships can flourish, particularly with people (employees and students) who are traditionally underserved by mentoring of an informal nature.
Increase loyalty and decrease turnover: Mentoring can help increase retention. Deloitte notes that 68 percent of millennials with a mentor plan to stay with the organization for five years (compared to 32 percent of millennials who do not have a mentor).
Builds skills: Mentoring matters in building much-needed skills and knowledge. Employees are eager to grow on the job, so not only do companies gain the benefit of a more skilled workforce, but they provide workers with something they want.
Increases employee engagement: A Moving Ahead study found 82 percent believe that mentoring relationships help foster meaningful connections between mentors and mentees, across departments and the organization.
Builds company culture and loyalty: Mentoring can integrate employees with company culture and make employees feel invested in by the organization.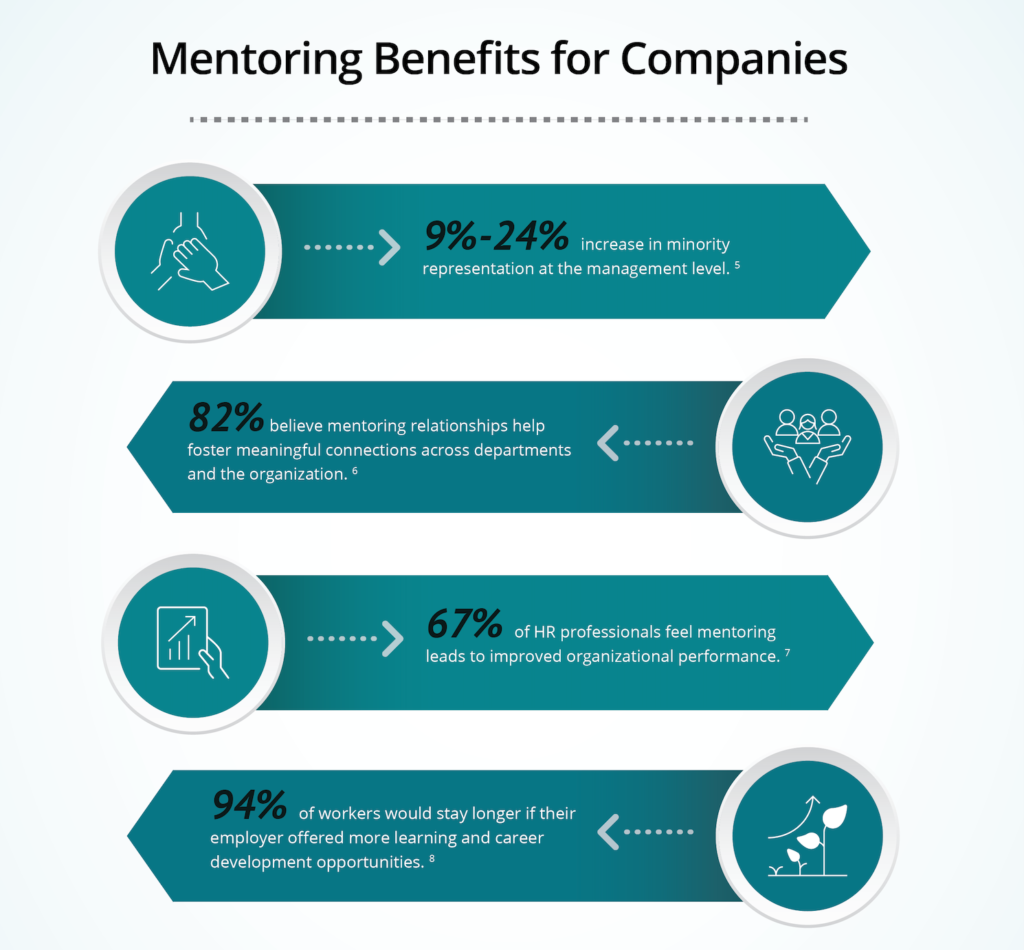 How Does Mentoring Benefit Recruiting?
The direct business benefits of mentoring are compelling, but let's take a moment to pivot to how mentoring programs affect the way job candidates perceive a company that offers mentoring programs. This point is often underemphasized, but is worth mentioning, especially if your company employs or recruits millennials.
When job searching, candidates are putting themselves first – and rightly so. They want what's in their best interest and they want to find the right fit. They want to learn and they want to grow. They want to be happy at their jobs.
Professional growth and career development
is the number one driver of successful engagement and retention among millennial employees
23% of employees leave a company
because of a lack of career development and training
Offering mentoring programs helps to set your company apart from those who don't. Some companies can talk the talk when it comes to having a growth mindset, but that point is lost if you don't back it up. Formal company mentoring programs reinforce your company's learning culture. What's a job candidate's thought process like when evaluating a company?
Down the line, will I be proud to list this company on my resume?
Will I be gaining skills and competencies at this job?
Will I be a better candidate in the future for having worked at this company?
By offering employees mentoring programs, you're showing tangible proof that your company invests the time, money and effort into something that directly benefits employees long-term.
How Does Mentoring Benefit Mental Health?
The Mental Health Foundation recommends mentoring as an effective way to support mental health at work. Mentorship can be an important tool for employee wellbeing in the following ways:
Fostering human connection
Providing employee support
Building trust
Establishing accountability
The need for connection doesn't stop when people walk through the door at work or sit down in their home office. With mentoring, organizations can focus on mental health and build support for employees, personally and professionally.
What are the Mentoring Benefits for Diversity & Inclusion?
When it comes to inclusion and career advancement, underrepresented employees can face challenges in the workplace. Mentoring can enable the following:
Skill development
Network expansion
Empathetic engagement
Allyship
Belonging and psychological safety
Mentoring can help cultivate an inclusive workplace that allows employees to bring their complete selves to work, whether this be physically or remotely.

Formal vs. Informal Mentoring Programs
Formal mentoring programs offer distinct advantages over informal mentoring arrangements due to their structured and organized nature. In a formal mentoring program, participants benefit from a clear framework that outlines roles, responsibilities, and expectations, ensuring consistency and accountability. These programs often employ data-driven methods for mentor-mentee matching, enhancing the likelihood of creating compatible and effective mentoring pairs. Formal programs frequently provide mentor training, equipping mentors with the necessary skills to offer meaningful guidance and support.
They also include mechanisms for goal-setting and progress evaluation, reinforcing commitment and encouraging ongoing development. Moreover, the structured nature of formal mentoring programs facilitates feedback collection and continual improvement. Ultimately, this systematic approach leads to increased program effectiveness, equal access for all employees, and measurable success, making formal mentoring programs a more optimal choice for fostering professional growth and development. Want to learn how software can automate program and reduce admin effort?

Is it Time for Mentoring Software?
Once your mentoring programs get to 100 people or more, you might start to encounter some pain points and mentoring challenges. This is normal. You might even start to see some tell tale signs, such as:
Matching that many people or more is taking a lot of time, effort and extra hands
Measuring the impact is up to spreadsheets, google surveys and word of mouth
Program changes are taking longer than expected and participants are becoming disengaged
With mentoring software, all of these things can be handled quickly and effectively by even just one admin. Design your program based on state-of-the-art best practices. Match your participants with the unique criteria you've chosen based on your organizations goals. And measure your program using robust data analytics and dashboards that keep the pulse of your program at your fingertips.
Book a demo to see how the Chronus platform can easily get your mentoring programs up and running.

Bottom Line
Mentoring programs can lead to improved personal and professional lives for both mentors and mentees, making them a valuable investment for individuals and organizations. This article underscores the multifaceted benefits of mentoring programs, emphasizing their significance in professional and personal development. Mentoring programs play a role in knowledge transfer, career advancement and fostering human connections.
This two-way exchange of feedback and ideas positively impacts individuals and organizations by increasing retention, advancement, DEIB and professional growth. If you're ready to make mentoring into a reality for your organization, check out our 5 Step Guide for Successful Mentorship Programs.